Voicing The Angels
2015-03-06 16:32:12
One thing that has made
League of Angels
stand out from other browser game has always been the sheer amount of powerful Heroes and Angels players can choose from. For the mobile sequel,
League of Angels - Fire Raiders
, the GTArcade team decided that each character should have its own unique voice. In order to bring each character to life, a group of highly talented actors and actresses with many years of experience were hired to make the world of LoA feel as real as possible to players!

(Voice Actors Cecilia Garcia, Barron Weyerhausen and C
hristy Shapiro)
"Each Angel is not only beautiful on the outside, but also has a distinct inner quality that needed to be brought out," said Cecilia Garcia, an actress from London, UK. With an impressive theatrical resume, (she was part of the acclaimed Clockwork Orange production which sold out many nights at the Edinburgh Fringe Festival), Fire Raiders was Garcia's first experience with games. She elaborates: "I greatly enjoyed immersing myself into LoA and learning about all the different Angels. I played the game so much that once I got behind the microphone, it wasn't difficult at all to know how each line was supposed to be delivered." Among other characters, Cecilia voiced Mikaela, the Angel of Fire and one of the most popular Fire Raiders Angels.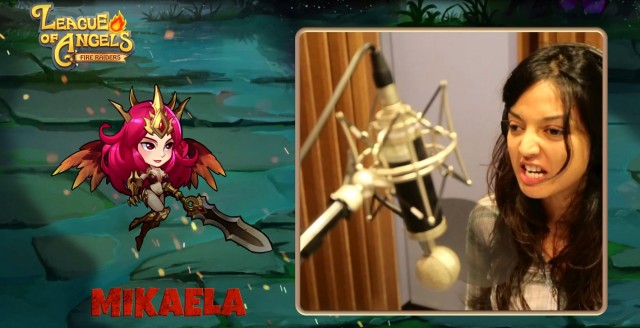 (Cecilia Garcia voice acting as Mikaela)
Garcia actually isn't the only one stemming from theater. Most VO talent in Fire Raiders also have a theater background. Creative Director David Johansson explains, "Stage actors are used to controlling entire rooms with the power of their voice. With one word, they can draw the attention of hundreds of people. VO and film actors are usually more focused on subtleties, but for this game, we felt that we needed powerful voices with distinct personalities, and this cast matched our needs perfectly." This blending of theater and mobile gaming creates an experience that is quite unique for players. Many players of the Beta version have commented on the quality of the character voices compared to other mobile games, who tend to put more emphasis on wacky sound effects and crazy music tracks.

(Voice Actors David McLean, Aaron Garcia and Charlotte Steiner)
There is one exception. One of the cast members is a very experienced Voice Over Artist with over three decades of experience in Radio, TV commercials, Movies and games. David McLean, an Australian Voice Over guru, had this to say about the game, "Working on games gives me a chance to become larger than life characters. To play the parts, I use every muscle in my body to get the perfect voice. I am usually exhausted at the end of a short session, but it is well worth it when you hear the results." One thing is certainly clear, the actors had a lot of fun bringing the LoA characters to life! The fun they had can be seen in a Voice Over video recently released by GTArcade. Be sure to check out the video and visit the official website to stay updated with the latest news about the game's upcoming global launch!
Download now:
iOS: http://is.gd/LOAios
Android: http://is.gd/LOAandr
Amazon App Store: http://is.gd/LOAamaz

Additional Information:
Watch the Voice Over video here:
https://www.youtube.com/watch?v=YV9eTLu6XMs
Get the latest info about League of Angels - Fire Raiders here:
http://angelmobile.gtarcade.com/
For regular updates, be sure to follow League of Angels on Facebook:
https://www.facebook.com/LeagueOfAngelsMobile
About GTArcade:
GTArcade is a leading developer and publisher of free online games. With its guiding principle "sharing simple joy", GTArcade has developed award winning MMORPG and strategy games for browser and mobile platforms around the world. Visit
www.GTArcade.com
today and play all our games for free to partake in the social gaming experience of a lifetime