Improve Your Game With the Forum
2015-03-10 14:42:59
Because League of Angels – Fire Raiders, the best mobile online RPG of 2015, offers players so many different ways to boost the power of their heroes and angels, choosing the best way to move forward in the game can be a bit tricky. Players may also have questions about certain aspects of the game or even suggestions on how we could improve things. For all of the above, the team at GTArcade strongly suggests visiting our forum. Don't be shy, visit it today and get all the greatest tips that will make you the top player in your server!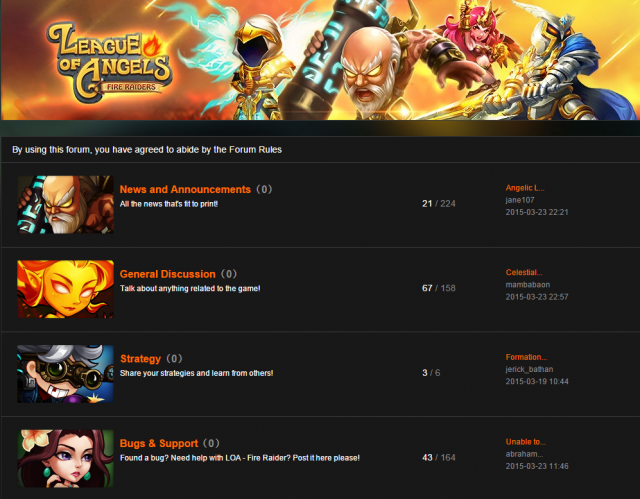 In previous GTArcade games, the forum has been a place where players have felt free to talk about anything that was on their minds, from game strategy and bug reports to random chatter about friends, family and life in general. We hope that this will also be the case for League of Angels – Fire Raiders and warmly welcome new players to join in on the fun!
Download now:
iOS: http://is.gd/LOAios
Android: http://is.gd/LOAandr
Amazon App Store: http://is.gd/LOAamaz

Additional Information:
Click here to visit the Fire Raiders forum:
http://community.gtarcade.com/group/2073
Get the latest info about League of Angels - Fire Raiders here:
http://angelmobile.gtarcade.com/
For regular updates, be sure to follow League of Angels on Facebook at:
https://www.facebook.com/LeagueOfAngelsMobile
About GTArcade:
GTArcade is a leading developer and publisher of free online games. With its guiding principle "sharing simple joy", GTArcade has developed award winning MMORPG and strategy games for browser and mobile platforms around the world. Visit
www.GTArcade.com
today and play all our games for free to partake in the social gaming experience of a lifetime!