League of Angels - Fire Raiders Cross Server Conquest
2015-11-27 16:31:28
GTArcade's renowned action RPG League of Angels - Fire Raiders is summoning all players to join a tournament of epic proportions. Cross Server Conquest, one of the most anticipated PvP modes, will arrive on Fire Raiders soon! Players will have the chance to put their teams to the test against the world and see who truly is worthy of being called champion.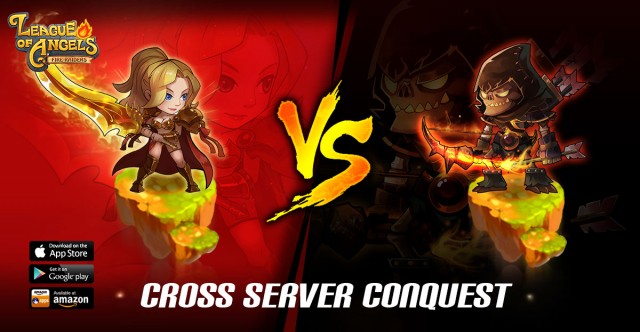 Cross Server Conquest Rules:
- You can access Cross Server Conquest at level 70 or above, while event is active.
- Cross Server Conquest takes the form of 3-team elimination combat, health and rage do not regenerate at the end of each battle.
- Cross Server Conquest is divided into 3 stages; first stage is the Point Tournament, second stage is the Grand Tournament and the third stage is a break period.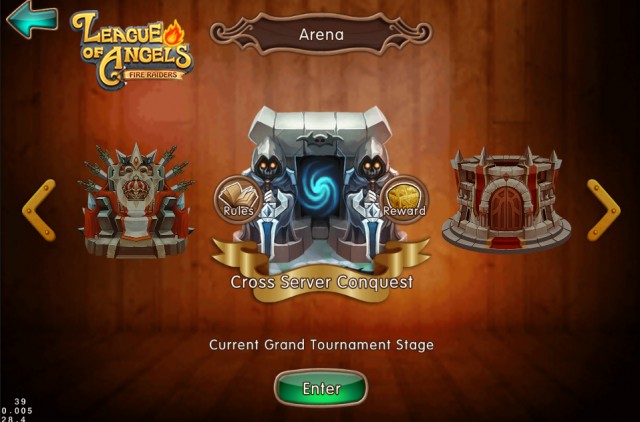 1) Point Tournament
a) Players do not need to sign up for Point the Tournament; As long as they are level 70, they can participate when the event is open.
b) Match-making will be based on a player's B.R. in Arena and A.Arena.
c) Players earn stars and points for defeating opponents in the Point Tournaments. Points are used to determine rank while stars can be used to unlock corresponding treasure chests. Players with the highest ranks will unlock special items in the shop.
d) Players who reach the top 300 ranks of the Point Tournament will be invited to compete in the Grand Tournament.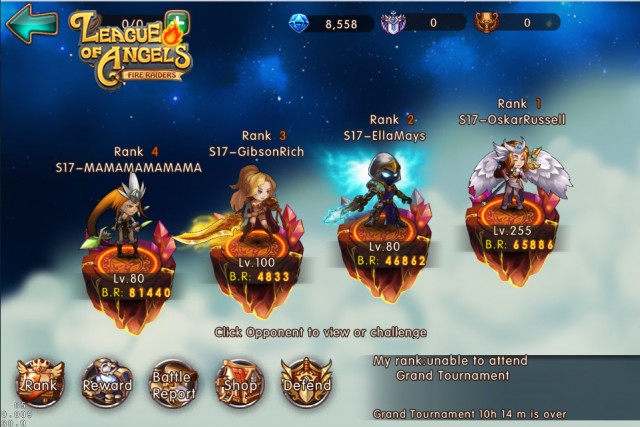 (Test Version)
2) Grand Tournament
a) Rank rewards are given out every 10 minutes; final rewards are given at a specific time on the day of the Final
b) Shop items are respectively unlocked according to final rank
c) Top ranking champions will be eligible for exclusive prizes like unique chat titles and account avatars!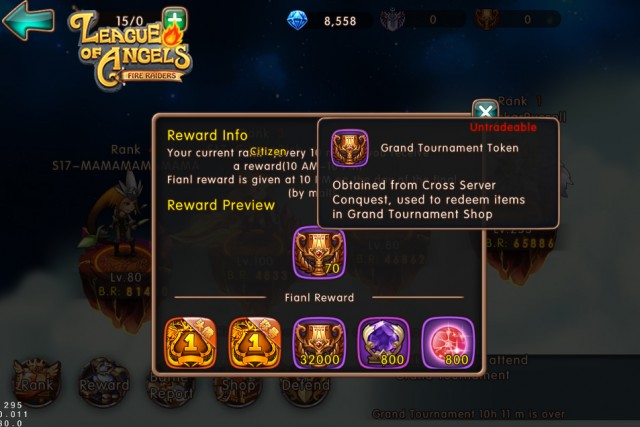 (Test Version)
3) Break Period
There will be a break period when each Grand Tournament ends. A new season will start after the break.
Point Tournament shops and Grand Tournament shops
Mysterious Soulstones are available in Point Tournament Shop and Grand Tournament Shop.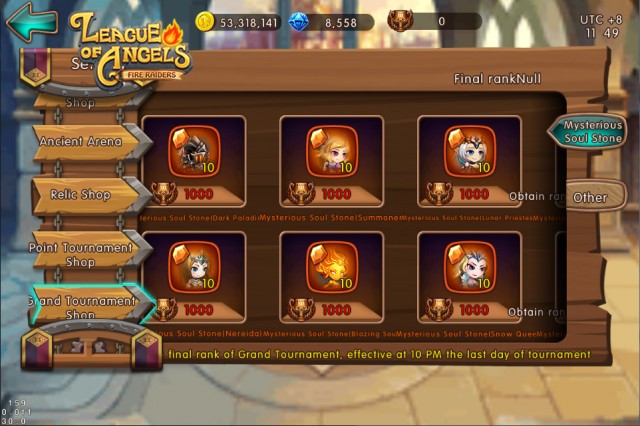 (Test Version)
Do you have what it takes to triumph over any and all adversaries? Gather your best Angels and Heroes and get ready to take on the world!
League of Angels - Fire Raiders is the perfect mix of action and strategy that has been providing millions of players all over the world with epic mobile experiences. Have you tried Fire Raiders yet? Download one of the hottest mobile games of 2015 and play for free!
Download free:
iOS: https://goo.gl/BMOjEp
Android: https://goo.gl/2jonKR
Amazon: http://goo.gl/SW4KsE
Additional Information:
Try League of Angels - Fire Raiders absolutely free by visiting the following link:http://angelmobile.gtarcade.com/
For regular updates, be sure to follow League of Angels on Facebook at:https://www.facebook.com/LeagueOfAngelsMobile Forum: http://community.gtarcade.com/group/2073
Instagram:https://instagram.com/leaugeofangels_fireraiders
GTArcade Game Platform: http://www.gtarcade.com
About GTArcade:
GTArcade is a leading developer and publisher of free
online games
. With its guiding principle "sharing simple joy," GTArcade has developed award winning MMORPG and strategy games for browser and mobile platforms around the world. Visit www.GTArcade.com today and play all our games for free! Partake in the gaming experience of a lifetime!