2.6: Conquer purgatory, win valuable Crests
2016-01-21 18:42:47
League of Angels - Fire Raiders, GTArcade's hit action strategy RPG, has turned into a global sensation since its worldwide release. Millions of players around the world have already experienced this robust mobile game that blends action and strategy with refined gameplay and stylized art design. A stream of updates continue to add exciting new features to the game, and the latest version is here to expand the Fire Raiders world! Below is an overview of what players can look forward to in Update 2.6 for League of Angels - Fire Raiders.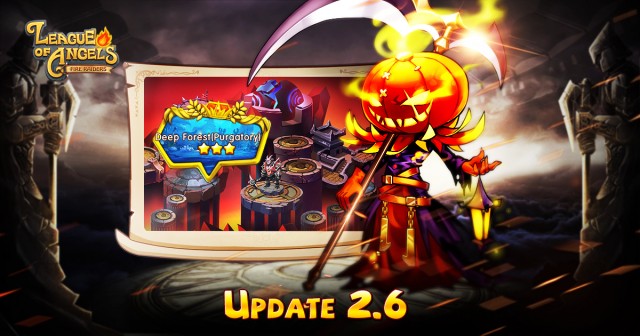 Update 2.6 includes:
New System: Crests
New Function: Hero Rebirth
New Difficulty: Purgatory
New Hero: Jack Hallow
Various optimizations and bug fixes
New Crest System

The Crest system is a new system being added to Fire Raiders that is unlocked at League level 65. Crests are powerful personal artifacts for your Heroes that can make your heroes better at their role, or supplement areas where they are weak. There are 10 unique Crests and each provide a specific main bonus. Each Hero may slot up to 4 Crests and each Crest comes with one main stat and up to 4 sub-stats. Upgrading the level of your Crests will increase its main stat, and at certain levels also increase or unlock new sub-stats. The amount of stats gained per level (growth rate) is determined by a Crest's star rank. Star rank cannot be upgraded, so you must find Crests with higher star rank from stages. Crests also have set bonuses that can be unlocked with the right combination.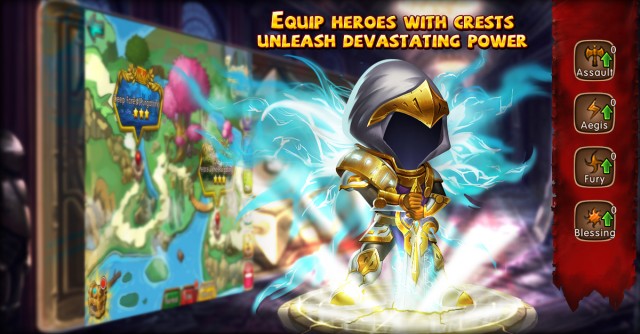 Hero Rebirth

Hero Rebirth is a new function that adds another form of Hero level progression to the game. When a Hero goes through Rebirth, their level and stats are reset to level 1, but their stat growth rate is increased by 10%. Once you start leveling that Hero again, they will gain more stats per level, so a hero that has gone through some Rebirths will have much higher stats then one that has not at the same level. You may choose to Rebirth your Heroes when they reach specific levels (starting at level 55) and this can be done up to 10 times.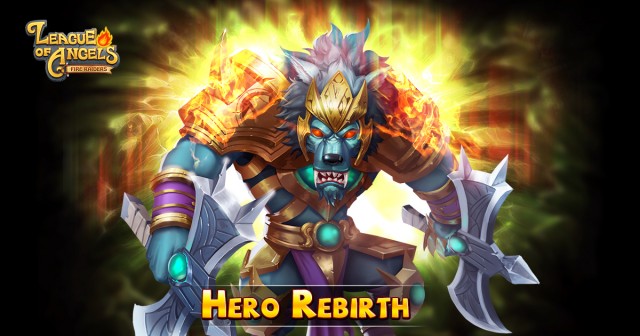 *Skills, runes, equipment and so forth will remain intact on a Hero after Rebirth.
Purgatory Difficulty

A new difficulty has been added to Adventure stages called Purgatory. This new difficulty is far more challenging than Elite and will give players Competing stages on Purgatory is also the primary way to obtain the new Crest items. Unlike Normal and Elite stages, Purgatory stages will not consume Stamina, instead players will have limited challenge attempts that will refresh over time.
New Hero: Jack Hallow

From the place of nightmares comes Jack Hallow, a mischievous spectre with a flaming pumpkin for a head. Wielding what he claims to be Death's scythe, Jack loves playing tricks on his enemies, although they are rarely amused by his antics. Don't fall for his Trick-or-Treat... it's always a trick. His hobbies, besides tormenting others, include collecting souls, stealing candy, and pumpkin pie. Jack Hallow is a damage-focused Hero with a bag full of unworldly abilities!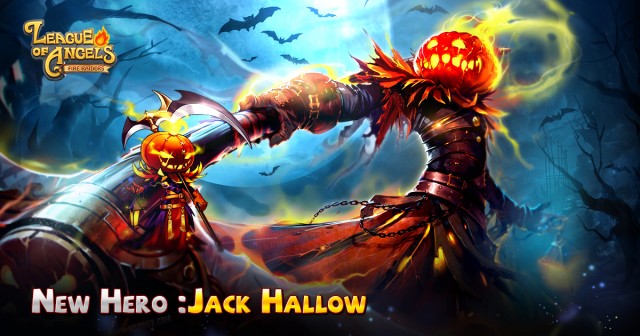 More detailed information can be found in the 2.6 Update patch notes. Stay tuned for more news regarding League of Angels - Fire Raiders on the official Facebook page and website. If you have not experienced Fire Raiders yet, now is the perfect time to embark on your own grand adventure!
Download free:
iOS: https://goo.gl/BMOjEp
Android: https://goo.gl/2jonKR
Amazon: http://goo.gl/SW4KsE
Additional Information:
Try League of Angels - Fire Raiders absolutely free by visiting the following link: http://angelmobile.gtarcade.com/
For regular updates, be sure to follow League of Angels on Facebook at: https://www.facebook.com/LeagueOfAngelsMobile
Forum: http://community.gtarcade.com/group/2073
Instagram:https://instagram.com/leagueofangels_fireraiders
GTArcade Game Platform: http://www.gtarcade.com
About GTArcade:
GTArcade is a leading developer and publisher of free online games. With its guiding principle "sharing simple joy," GTArcade has developed award winning MMORPG and strategy games for browser and mobile platforms around the world. Visit www.GTArcade.com today and play all our games for free! Partake in the gaming experience of a lifetime!