Arena System - The Arena System For glory! (and loot)
2015-03-08 17:52:17
There is no shortage of warriors in Ivalice. Challengers come from the four corners of the world to fight for honor in the Arena. In these PvP battles, players pit their strongest teams against one another to earn Arena Tokens, which can be used to buy unique items from the Arena Store.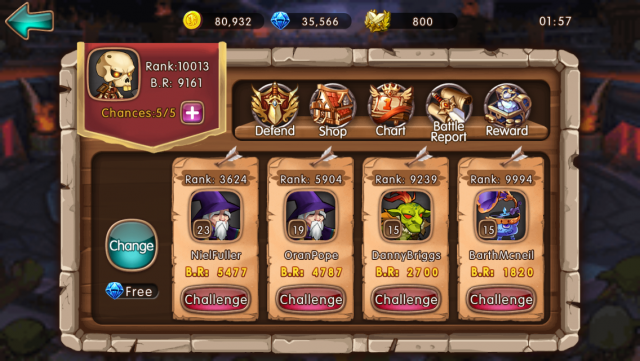 Below is everything a gladiator needs to know to conquer the Arena.
1. The Arena is only open to level 18 or above players.
2. Players can challenge each other 5 times for free in Arena each day.
3. Players that challenge and successfully defeat a higher rank rival will obtain that player's rank. Defeating a lower rank player will not change their rank.
4. The system will display 4 rivals at a time of different rankings. Players can click "Refresh" to change their rivals. In the new version of League of Angels, players can refresh their list of rivals for free once a day.
5. Time is limited in Arena. If players can't defeat a rival within the allotted time, they will fail.
6.The interval between issuing challenges in the Arena is 10 minutes.
7. The system will tally the rankings at 9:00 PM (game time) each day and give rewards according to players' ranks. The top gladiators will receive considerably better rewards.
8. Make sure to carefully select which Heroes you want to defend. You can be challenged at any time by other players and your defending Heroes will automatically fight for you.
9. Players can use their Arena Tokens to buy items from the Arena Store. The game will refresh items at 9:00 AM (game time) each day.
10. When players win a battle in the Arena, they will earn 2 Arena Credits. If they fail, they will earn 1 Arena Credit. Players can build up their Credits and exchange them for rewards in the Arena each day.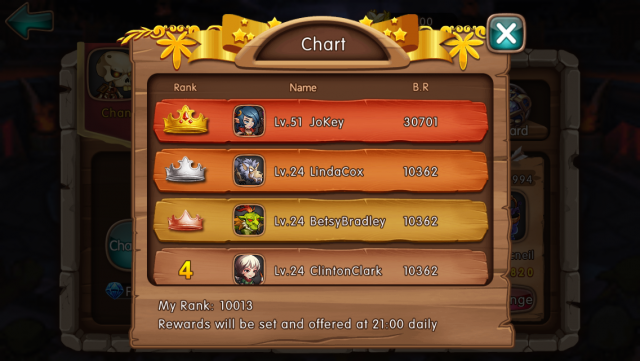 [Great Rewards: Arena Resources]
While defeating rivals in the Arena won't award any League Exp or Hero Exp, you will find many other spoils to be earned. Along with the rewards players receive from climbing the ranks, they can also get lots of valuable resources, including Hero Soulstones, Equipment, Recipes and Exp Potions.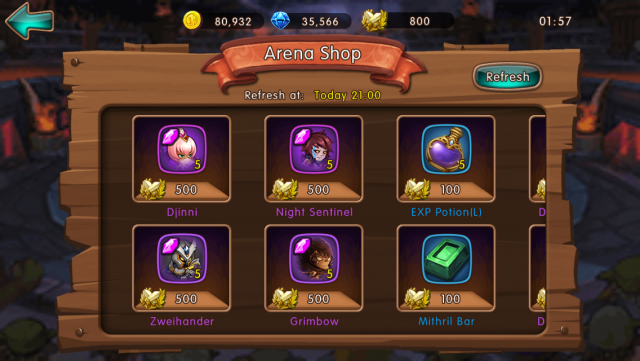 Hero Soulstones available in the Arena Store include Zweihander, Night Sentinel and Djinni; a formidable tank, a deadly archer and a superb healer, respectively. Grimbow, the fourth hero in the shop, is not used as often but can still be worth developing for the right formation. The game will also refresh Gold Resources, Rare Equipment, Epic Equipment, Epic Recipes and Exp Potions at set intervals so be sure to check for updates!