Main Interface
2015-03-11 16:15:18
Players can click on Adventure, Trial, Arena, Quest, Package, Store, Hero, Angel, Train, Draw Card, Mail, Check-in, Top-up and League to enter the corresponding model.
Players can have a look at the hero teams in the main city. Each hero and angel has their own special response and movement. Make sure you check them out!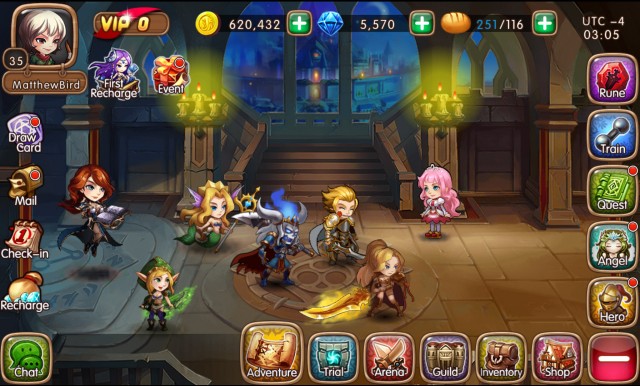 As shown in the picture:
1. Stats interface: Players can click on their avatar to check their league level, League EXP and hero as well as angel quantity. They can also change their avatar and name, turn on or off music and exchange packs with code here.
2. Event Interface: Players can enter here to check out the events in the game.
3. Draw Card, mail, check-in and top-up page: Draw Card is one of the main ways to get heroes. Players will get arena and Angel Trial rewards via email. Check-in system provides lots of resources. Don't forget to check in every day.
4.Adventure Page: The main quest system of the game has elite and normal levels.
5.Trial and Arena Page: Angel Trial and Gold Trial are 2 main ways to get angels and gold. The arena system contains Arena and Arena store where players can get more stars for their heroes.
6.Training Pace: The training system is the main way to upgrade heroes and angels.
7.Package and Store Page: Players can check all items in the package page. Store will be refreshed daily at 9:00, 12:00, 18:00 and 21:00. Players can also buy hero soulstones, equipment and EXP Potions here.
8.Rune Page: The system unlock at Lv.35. Players can give up their equipment for hero stats here.
9.Hero and Angle Page: Players can check info on heroes and angels here.
10.Quest Page: Players can complete daily quests to upgrade their league quickly.
11.Chatting Page: Players' recent chat record will be kept here. If the window is too small, click the "Chat" icon to zoom.
The main city will change scenes in real time, so players can see time flies by in the game. At late night, players can even click on the candles in the main city to blow them out!