TIPS FOR NEW PLAYERS!
2015-04-15 12:08:48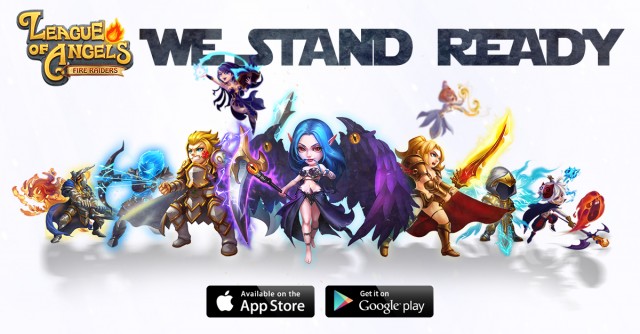 Lately we had a Facebook event to let our fans to contribute with their best advices for new players. Let's have a look at some great tips we selected, hope they could help you too. Maybe a newbie today, but who can say you won't be a strong fighter someday.
From: ENXzelos from S2
1. Take advantage of the gems recharge bonus
2. Save up your gems for your first 10x Divine for a guaranteed 3 stars Hero
3. Buy a monthly gem card for $4.99, not a lot for a good deal of gems
4. Use all 5 of your free arena entries each day to move up in ranking for FREE gems
5. Join a guild because there are tons of benefits like feasts, camp etc.
From: xKreuz from S2
Good Starting heroes are Pyrona, Rose Knight, Atalanta worth to keep til end game or til you get better heroes.
You can upgrade any hero up to 5 star maximum so try to think of other builds not only sticking to natural 3 star some 1 or 2 star are good once you upgrade them.
Stamina recharges every 6 mins so Always consume and recharge stamina even if it cost diamonds trust me its worth it and if you can buy Monthly Vip card for $6.99 gives initial 700 diamond and 200 daily for 30 days. and grants VIP 1 status which allows you to purchase stamina for 3rd time for total of 450 stamina.
Join guild when you reach lvl 22 ( gives 300 diamonds for quest ) and join Feast up to 3 times you can get maximum of 240 stamina each day with feast.
Log in every Lunch and Dinner time for free 80 stamina each for total of 160 free stamina each day
Finish all you daily quest for Large exp boost total of 960 exp per day if u finish them all
1 stamina = 1 Exp
Daily Quest = 960 exp
Feast = 240
Log in Lunch/dinner = 160
12 hr max recharge = 100-130
stamina recharge = 300 regular 450 and up for VIP
So you level up once a day or more even at higher level if you manage to finish it all.
Play arena dont worry if you lose you still get points for 2 lose and you get initial diamond each rank up but once you get to rank 1 deranking doesn't give you any diamonds when you rank up.
Higher arena rank yield tk higher reward every 21:00 server time arena reset .
Top 1 = 600 points, 2.5k diamond 10 exp potion L, 60k gold
Use this points to buy items or hero shards.
Focus on 1 angel at same as your level than rushing to get higher level angel because angel at your level can be bought to trial and upgrade star opening the passive angel buff which is a must.
Recomended angel are
Glacia obatainable at low lvl
Lunaria ,( free any lvl if you become VIP for first recharge and unlock the Lunaria at trial)
Nyssa lvl 40,
Alecta lvl 55.
Save diamond for 10 draws 6,999 diamonds for higher chance to get 3 stars
Once you already got the hero you'll obtain soul stones when you draw them
1 star = 8 soul stone
2 star = 18 soul stone
3 star = 30 soul stone
From: Kayla from S1
1. For players who have cash, be a vip player theres lot of advantage like more training slots for heroes and angels.
2. Finish the daily quest for quick leveling
3. Open the chests in angel trial to get items and angels for upgrading heroes and angels.
4. Help fellow guild members to boost their experience
5. Enjoy the game!!!!
From: ENXzombie from S2
1. Complete your daily quest
2. Open the chest in the Angel Trials for items.. Sometimes you'll receive shards for other hereos.
3. Buy stamina at least once or twice a day.
4. Feast! Feast! Feast! With your fellow guildies.
5. Help boost your guild members.
6. Have patience and enjoy the game!
From: Kiyuu from S1
Advice that I can share mmmmmm let see...
- Do Daily Quest
- Purchase Bread
- Guild Feast For Extra Bread (Guild is going to open when you reach level 22)
- Free Bread (Twice a day)
- For Newbies , First time on rank can get a lot of diamonds (ARENA)
- Battle Rate Estimation (Check your BR if you can challenge other player,
Don't be hasty) <~~~ (ARENA)
- Memorize your current Heroes and angels skills and effects
- Counter Enemy formation with your heroes
- Point your hero to the Most effective position so it can unleash its potential
- First time Draw in Super divine Can get Sure 3 star (6999 Diamonds)
- Free Draw ( 24 hrs cool down, 2nd day)
- BE ACTIVE!!!!
Official Site:
http://angelmobile.gtarcade.com/
Forum:
http://community.gtarcade.com/group/2073
Facebook Fan Page:
https://www.facebook.com/LeagueOfAngelsMobile
GTArcade Game Platform:
http://www.gtarcade.com