Elder Dwarf: The Strongest Tank
2015-05-29 16:14:13
(Tester: Max)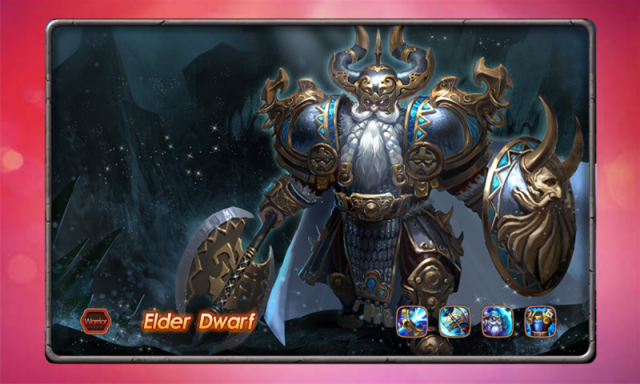 1. General Evaluation
A super tough tank ever, can regenerate health, has a shield that reduces damage and has the ability to contain opponents in a horizontal row. He is a great threat to heroes with physical damage.
Beginning Star: 2 stars

Weakness:
Low hit chance,can take great crit damage,lacks magic immunity, can be contained
Strong Against: All heroes that deals physical damage
Nemesis:
Pyrona, Shadowraith, King o'Bones , Blue Witch, Soul Slinger
Recommended Position:
Front Row
Recommended Composition:
1)Front Row: Light Envoy Elder+Dwarf
Back Row: Hell Hound+Minotaur + Headless Horseman
2)Front Row: Elder Dwarf +Light Envoy/Valkyrie/Rose Knight/Nether Knight/Zweihander
Back Row: Hecate + Guardian + Mermaid/Lunar Priestess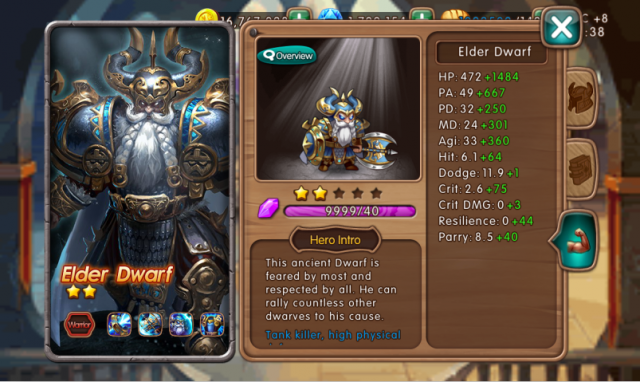 2. Skills
Force Majeure:

Damage the enemies in the front row, and deduct the damage caused by them; restore a certain percentage of HP.

Thunder Axe:

Has the chance to damage and stun enemies in a horizontal line each round.

Indefectible:

Get a shield every 3 rounds, which can reduce a certain percentage of damage every 3 rounds when the damage exceeds a

certain percentage of max. HP.(Lasting for 2rounds)

Full Body:

Increase HP and physical defense under attack.
Skill Evaluation:
Force Majeure: HP restored depends on Max HP. As a excellent Tank, he has 36985 HP at full level without Angel buff. When this skill is maxed he can regain 22191 HP by damaging enemies in the front row. This skill is more reliable compared to the Lifesteal Shield of Nether Knight.
Thunder Axe
:
Stuns and damages enemies in a horizontal row, similar to that of Berserker Claw. This skill protects self and contains back row
enemies. Although chance to stun is inferior compared to that of Berserker Claws, but it does have a chance to stun two targets in the back
row, if used well can effectively contain heroes like Shadowraith, Pyrona, Night Sentinel
Indefectable
:
This shield grants extra fury when being attacked. Shield activates as soon as combat begins, the first of its kind for tanks.
Shield keeps Dwarf from getting bursted down, when damage is over a percentage of his HP, a large amount of damage is reduced.
Full Body
:
Can increase HP and physical defense. This makes him a counter to heroes that deals physical damage.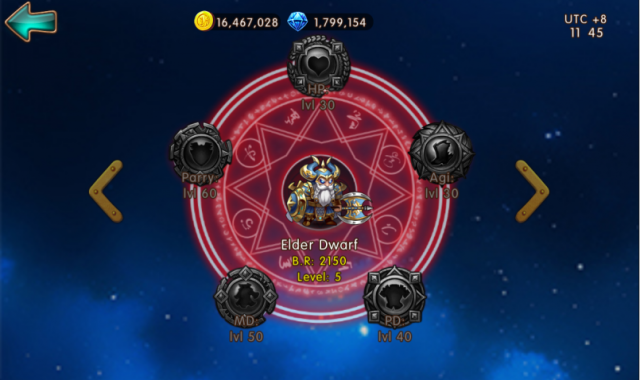 3.Rune Bonus
HP, Agility, Physical Defense, Magic Defense, Parry
Rune Bonus Breakdown:
Rune bonus combined with skill makes Dwarf the toughest tank in the current version of the game. Magic defense makes up for his weakness in
offensive skills and gives him a chance against mages. Agility makes him attack first, enabling him to contain enemy horizontal row with
his second skill.

Official Site: http://angelmobile.gtarcade.com/
Forum: http://community.gtarcade.com/group/2073
Facebook Fan Page: https://www.facebook.com/LeagueOfAngelsMobile
GTArcade Game Platform: http://www.gtarcade.com