Awaken Introduction: Awaken Hero, Wreck Havoc
2016-03-15 17:19:44
League of Angels Fire Raiders is proud to introduce a system that will revolutionize your gaming experience! The all new Hero Awakening system will allow players to Awaken specific Heroes, unleashing their true potential.
Hero Awakening Function
The Hero Awakening feature unlocks at League level 71. Awakening currently has 2 main functions: Unlocking a Hero's 5th skill and altering their appearance!
Awakening is divided into multiple levels, each level will increase the Hero's stats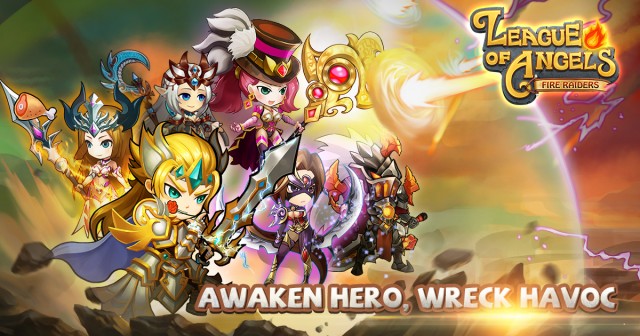 The Awakening Function panel
The fourth mark of a hero will be activated when he or she is awakened. From top to bottom, there clearly shows the current awaken status of a hero, the requirements and total buff for the next awakening level. By pressing the 'evolution' button at the bottom, players can evolve one hero to a higher awaken level to obtain greater promotion.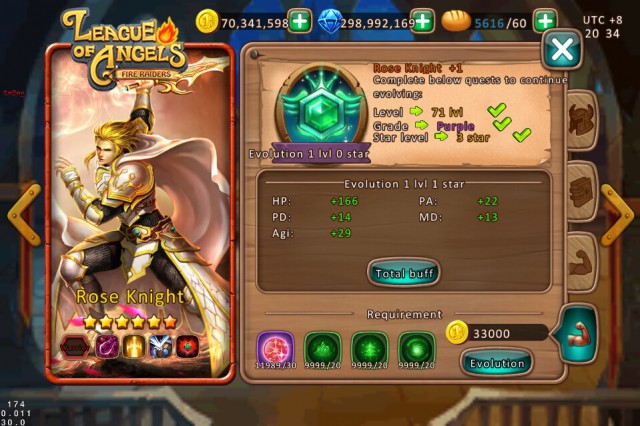 Full Introduction of Awakening Skills
Heroes will be enabled for Awakening in waves, the first 6 are: Rose Knight, Pyrona, Nereida, Dark Paladin, Nightblade and Lunar Priestess. Here we'd like to introduce their awakening skills respectively:
Rose Knight -

Rose Blade: Gains incoming damage reduction, increase the target of 'Holy Sword' by X(X=1-5).

Pyrona - Fire Blast: Pyrona adds 'explode' effect each time she casts Fire Blast (Target deals percentage damage of HP plus absolute damage to neighbouring heroes)
Nereida - Silver Dragon Scale: The blood of Silver Dragon is awakened, increaseing HP and grants damage reduction.
Lunar Pretest - Moon Prayer: Continuously heals target, also grants self with a shield that turns incoming damage to HP, lasts 2 turns.
Dark Paladin - Dark Revenge: Gains damage reduction after rebirth (1 turn), attack increases (2 turns).
Nightblade - Assassin Blade: Increase HP of self and dodge chance.
List of Evolution Required materials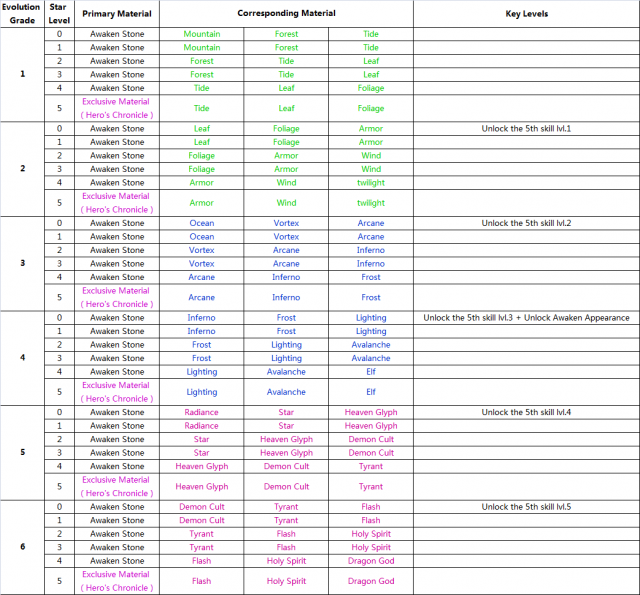 Since Fire Raiders is planning on releasing a new 'Cross Server PVP' system in June, players should have plenty of time to utilize the new Awaken feature to prepare for the ultimate showdown!
Download free:
iOS: https://goo.gl/BMOjEp
Android: https://goo.gl/2jonKR
Amazon: http://goo.gl/SW4KsE
Additional Information:
Try League of Angels - Fire Raiders absolutely free by visiting the following link: http://angelmobile.gtarcade.com/
For regular updates, be sure to follow League of Angels on Facebook at: https://www.facebook.com/LeagueOfAngelsMobile
Forum: http://community.gtarcade.com/group/2073
Instagram:https://instagram.com/leagueofangels_fireraiders
GTArcade Game Platform: http://www.gtarcade.com
About GTArcade:
GTArcade is a leading developer and publisher of free online games. With its guiding principle "sharing simple joy," GTArcade has developed award winning MMORPG and strategy games for browser and mobile platforms around the world. Visit www.GTArcade.com today and play all our games for free! Partake in the gaming experience of a lifetime!