IRMÃOS REUNIDOS PELO LOA - FIRE RAIDERS
2016-09-02 17:36:41
League of Angels - Fire Raiders, o jogo da GTArcade premiado atraiu milhões de jogadores de todo o mundo. Existem muitas razões das pessoas se juntaram a este jogo e mais ainda por elas amarem cada vez mais as experiências deste épico jogo.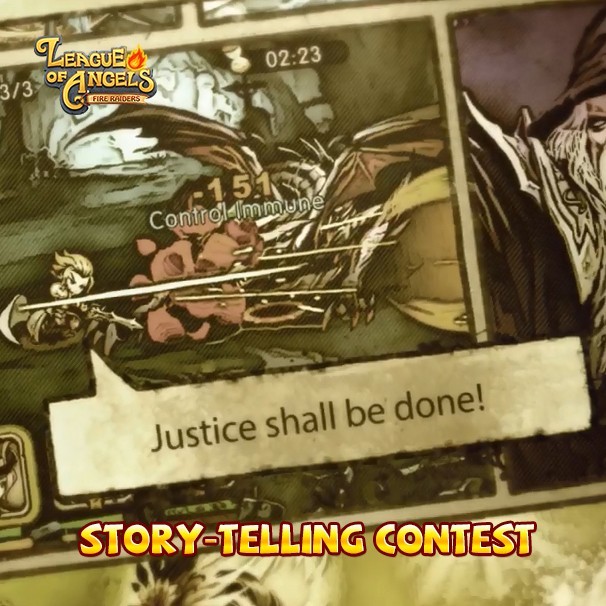 Com milhões de pessoas jogaando League of Angels – Fire Raiders, o jogo tornou-se parte de suas vidas diárias.
Muitos jogadores jogam League of Angels – Fire Raiders a um bom tempo, e o jogo tornou-se parte de suas vidas. Os jogadores têm acumulado toneladas de histórias pessoais relacionadas ao longo da sua jornada no Fire Raiders. As vezes é um conto de uma batalha épica, por vezes, era uma história de amor inspirador ou um momento engraçado do jogo. Para os jogadores, o League of Angels – Fire Raiders é um jogo cheio de memórias.
Desde o lançamento do Fire Raiders há 18 meses, muitos jogadores enviaram suas histórias para nós e ficamos profundamente comovidos com essas histórias. Então pensamos que era hora de realizar um concurso sobre contar histórias, desta forma os jogadores poderiam partilhar suas histórias com todos. Através das histórias sentimos seu amor, criatividade e paixão, mas não só pelo Fire Raiders, mas também por hobbies, amigos e família. Vocês são a razão pela qual fazemos nosso trabalho com dedicação e por isso nos esforçamos para fazer o melhor jogo de celular!
Abaixo algumas das histórias impressionantes que aconteceram no nosso League of Angels – Fire Raiders!
AstridReilly (S247)
I started playing this game around 2 weeks ago. As a 35year old working mother to 3 boys, I've never played games like this before- I used to only Crush Candy and fling Angry Birds in my spare time. My whole gaming world has changed- or really just begun! On my server, I am the leader of a #7 Guild, #5 in the Arena, and #3 on League and Arena BR. 2 weeks ago I wouldn't have had a clue what any of that meant! Now I am so proud of what I've accomplished and I still have so much more to learn. I'm in awe by this game and am really enjoying playing and learning more about it every day. The graphics and animation are great and I am so happy to have found this whole new world that I never knew existed.
Awjoewan (S242)
My mother and father live separately since I was young. I have a brother that lives with my father and never get along since forever.
Long story short, my brother plays the game. I play the game. Now we're like best friends and are now competing with each other. So much fun! Thanks LoA – Fire Raiders!
Rekvi (EU53)
286 days ago, my favorite guy started bragging LoA – Fire Raiders and offered me her download too. But I'm not a fan of any telephone and other toys, and on this, I laughed with his proposals and refused. But my favorite didn't give up and still got to try to play. In the general level of the level, created a guild and I was in her understand that not the last person and zam-leader. We live together and on this play more interesting, we are with a smile trying to show you what is better than the other, he's bragging about what I am. Well, since this is my first gaming experience - I am treading on my guy. But I don't always happen, and he is. So the game super! I still can't tear myself away from her, and I'm so interesting and not nearly got sick of playing. Thank you so much for such an exciting game!
DragonLord (S5)
I made many friends by joining a guild, there was once I saw a lovely girl sitting on a bench in a park, I stepped forward and saw her playing this game, now I believe in fate , because she is in the guild I'm in, I went and talk to her and she is my best friend now , I met up with her every weekend and had fun together.
LPALMERA1 (S235)
Hi, I'm from Colombia, my English is not good enough, please understand me.
Once time ago, I meet a girl because of this game, this girl is my girlfriend now, I thanks you for this, I really love this game!!